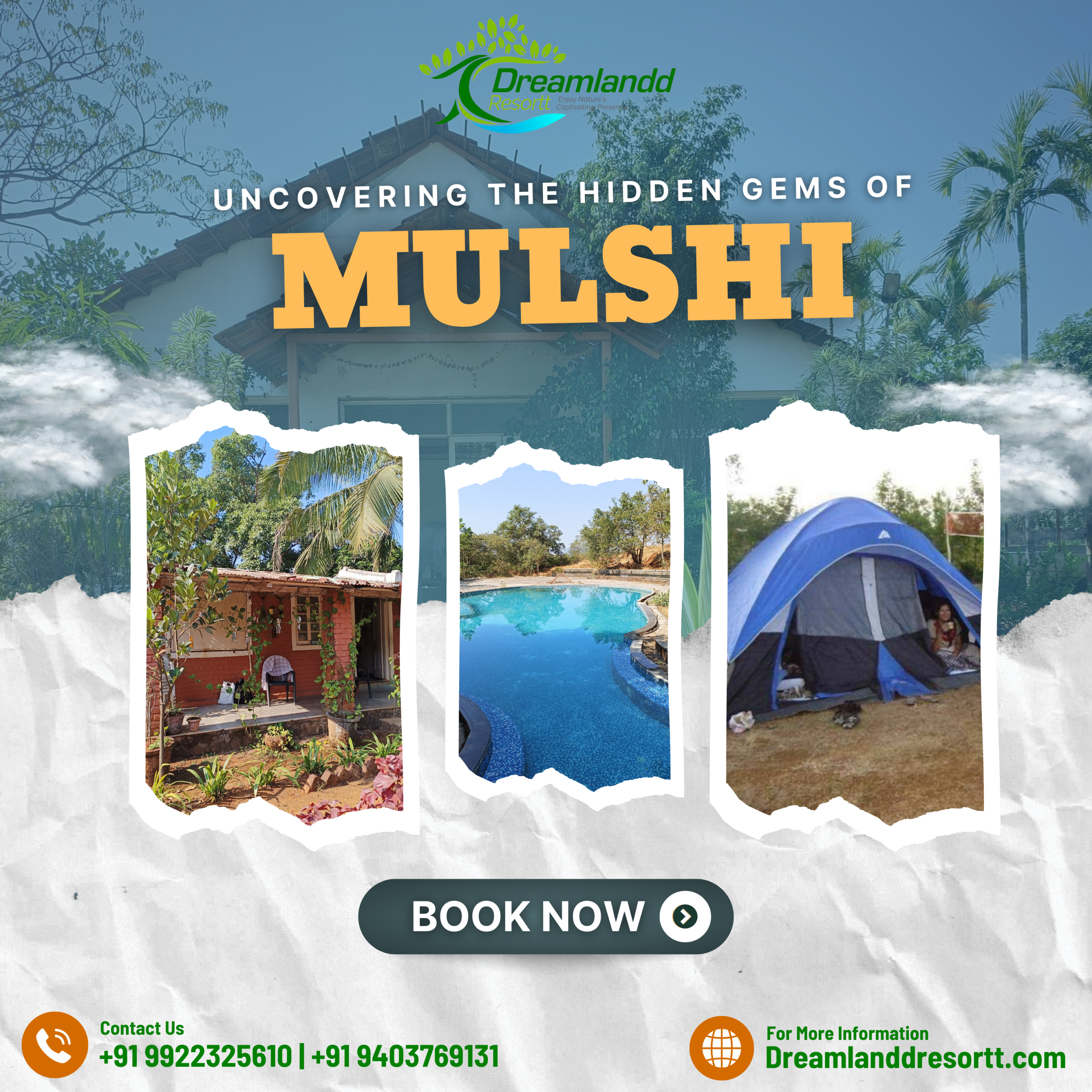 Introduction
Monsoons are here, and what better way to enjoy them than by escaping to Dreamland Resort in Mulshi. Experience the bliss of monsoon that nature has to offer while you unwind in the lap of mountains with tranquil blue Mulshi ponds against a backdrop of green mountains. This eco-friendly resort offers affordable picnic spots, corporate party venues, and one-day packages. You can indulge in indoor and outdoor games, take a dip in the swimming pool, or sway to the rhythm of the rain dance. Don't forget to try the mouth-watering food cooked by their chefs.
Accommodation
Experience nature's bliss in the Mulshi Mountains by staying at Dreamland Resort. The resort offers both bungalows and tent accommodations for a unique stay. Each accommodation is designed to give you a homely feel while indulging in the tranquillity of nature. The vast parking area keeps your cars safe, which most places forget. The sound of nature and the babbling stream creates an ambiance unlike any other.
Activities
Experience the thrill of adventure at Dreamland Resort. Enjoy a variety of indoor and outdoor games that include table tennis, carrom, chess, cricket, and football. Take a dip in the cool waters of the swimming pool or sway to the beats of rain dance with your loved ones.
Food
Food at Dreamland Resort is a divine experience. Their chefs prepare tasty and healthy meals that are sure to satiate your hunger pangs. Vegetarian and non-vegetarian options are both available. Do end your meal on a sweet note with their delectable desserts. Trust us, you'll be wanting more!
Location
Escape to the tranquil Mulshi mountains and create a lifetime of memories at Dreamland Resort. The resort is nestled amidst serene blue Mulshi ponds and verdant green mountains, offering a perfect escape from the chaos of the city. The resort offers both bungalow and tent accommodations with an array of activities including indoor and outdoor games, a swimming pool, and a rain dance. Guests can experience the bliss of monsoon while enjoying sightseeing, a bonfire, and a barbecue. With healthy and tasty food, this eco-friendly resort is a perfect monsoon getaway.
Packages
Packages: Dreamland Resort offers a range of affordable packages to cater to corporate events, picnics, and one-day trips. The corporate packages are designed to boost team building, while the picnic packages offer leisure and fun. The one-day packages are perfect for a quick escape. Book your package of choice and indulge in an experience of a lifetime.
Booking
Booking at Dreamland Resort is easy. Contact us for more information.
Conclusion
Escape to Dreamland Resort this monsoon! Create memories of a lifetime.