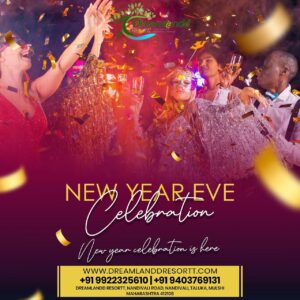 Plan to celebrate the New Year near Pune. Dreamland Resort is the best place to celebrate the new year. As we tend to embark on another year of trials and tribulations, as we take a look at our successes and failures, as we reflect on our goals for the year ahead, it becomes important to break free from our monotonous routines and appreciating a little of the revelry We've moved
years from where we are now, and it's really given us memories worth cherishing, but it's also taken its toll. So it's time to celebrate the arrival of 2023 in style!
What if we told you that you can welcome 2023 to the lap of the hills amidst the pristine and lush green landscapes of Pune, which is just a series of Hours from Mumbai? Hard to hear, isn't it? Dreamland Resort is one of the best resorts in Pune, packed with the best restaurants offering delicious meals of different cuisines and places to relax. We even have lake view rooms so you can relax in Class.
Stylish interiors, stunning pure surroundings and a range of the best multi-cuisine restaurants in the area.
What else does it take to make your New Year's Eve special? we tend to have it covered. We wish you a great party to welcome 2023 with open arms and good spirits!
Organize at Dreamland Resort we have the best New Year's Eve party that can take your breath away.
With attractive package deals and options to try a variety of experiences, we at Dreamland Resort are here to bring you added value this new year. Use our attractive packages that will make this short break even more unforgettable.
Celebrate with us! To avail, New Year's Passes reserved exclusively at
Dreamlandd Resortt, Nandivali Rd,
Nandivali, Taluka Mulshi, Pune
– 412108, Maharashtra, India
Write to us at [email protected]
Mobile: +91 9922325610, +91 9403769131
What are you waiting for? Reserve your seats now and experience luxury, togetherness and exhilaration only at Dreamland Resort!