PACKAGES
| | |
| --- | --- |
| One day Package – 1 | 9:30 AM – 5:30 PM (Morning) |
| | Tea / Coffee with Breakfast |
| | Lunch |
| | Tea/ Coffee and Biscuits |
| | |
| --- | --- |
| One day Package – 2 | 4:30 PM – 10:30 PM (Evening) |
| | Tea / Coffee with Snacks |
| | Dinner |
Packages(Per Person)
Charges
Children (4 – 10  Age Group)
Veg
Nonveg
One Day – 1
Rs. 900
Rs. 1100
Rs. 700
One Day – 2
Rs. 1000
Rs. 1200
Rs. 700
[divider style="none, div-single, div-double, div-triple, div-triple-dashed, div-triple-dotted, div-quad, div-dotted, div-dashed" full="yes"]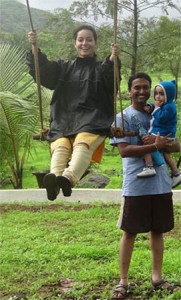 Tent – 1
05:30 PM Check In and 09:30 AM Check Out
Evening
Tea/ Coffee with Snack
Night
Dinner (Veg/Nonveg)
Morning
Tea/ Coffee with Breakfast
Tent – 2
 (24 Hours)
09:30 OR 05:30 Check In and Check Out
Breakfast
Lunch (Veg)
High Tea/Coffee and Biscuits
Dinner (Veg/Nonveg)
Packages(Per Person)
Charges
Children (4 – 10  Age Group)
Veg
Nonveg
Tent – 1
Rs. 1350
Rs. 1350
Rs. 800
Tent – 2
Rs. 1650
Rs. 1650
Rs. 1000
[divider style="none, div-single, div-double, div-triple, div-triple-dashed, div-triple-dotted, div-quad, div-dotted, div-dashed" full="yes"][/two_third]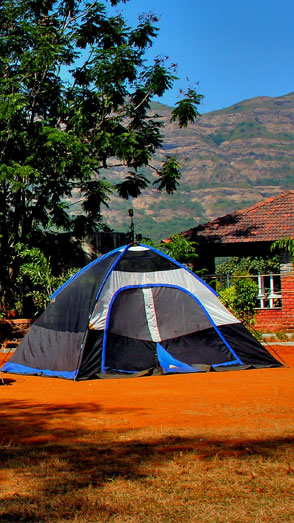 Rooms  
01:00 PM Check In and 11:00 AM Check Out
1st Day Afternoon
Lunch
1st Day Evening
Tea/ Coffee with Snack
1st Day Night
Dinner
2nd Day Early  Morning
Tea/ Coffee
2nd Day Morning
Tea/ Coffee with Breakfast
Tariffs (Rooms)
| | | |
| --- | --- | --- |
| Room (4 No.s) | Weekdays | Weekends/ Holidays |
| Per person (2 persons) | Rs. 6000 | Rs. 6000 |
| Extra Adult | Rs. 2000 | Rs. 2000 |
| Extra Child (4-10 age group) | Rs. 1,200 | Rs. 1200 |
Size – 16' X 13'Specifications
Double bed (King Size) with pillows and blanket
Mattresses, pillows and blankets (If required)
Hot water facility
TV
Fan
Chairs and Table
Lawn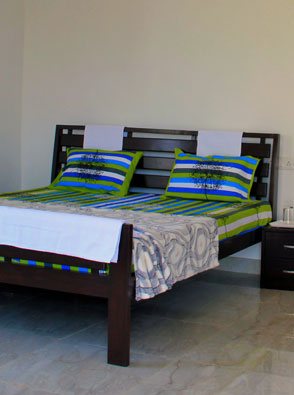 [divider style="none, div-single, div-double, div-triple, div-triple-dashed, div-triple-dotted, div-quad, div-dotted, div-dashed" full="yes"]
Terms and Conditions –
Booking is done on the payment of minimum 50% of the total amount. Rest is to be paid on the arrival on the event day.
No amount will be refunded in case of cancellation. Rescheduling of event could be done according to the prevailing rates.
The charges will be applied as per the number of persons confirmed at the time of advance booking. Low number of persons on the event day would not reduce the cost and extra members will be charged more as per the rate mentioned above.
Kindly confirm the number of persons and Veg-Nonveg bifurcation before 2-3 days.
Charge does not include only food, accommodation and facilities; but also for the continuous service.